Society Events
The Cambridge Society arranges a number of events each year, from a black tie annual dinner to family days out at the planetarium, which provide new and old members from all over the world and all matriculation years with the opportunity to meet.  Click here to discover forthcoming events.

Most events are arranged together with the sister Oxford Society, which has a similar relationship with Belgium, whilst several are arranged with other alumni organisations for example Yale, Harvard and Columbia.
A highlight is the Annual Dinner,  in the splendid premises of the Club du Premier Régiment des Guides or the wonderful Cercle Gaulois.
The annual cocktail in June is the high point of the society's summer calendar, which also includes an annual Croquet match against Oxford, golf matches and visits to private gardens.

The Society also organises midweek speaker meetings, where politicians, authors and thinkers give members a unique, off-the-record insight into their latest projects as well as taking questions from the floor. These are usually followed by a meal, giving events a social aspect as well.
Always of great interest to members have been the guest speakers at Annual Dinners or  Speaker Events. In the recent past Speakers have included:
Michael Pye -- British journalist, broadcaster, novelist and historian.  Author of "Antwerp The Glory Years"    
Prof Anthony Clifford Grayling -- CBE MA  DPhil (Oxon) FRSA FRSL is the Master of the New College of the Humanities, London, and its Professor of Philosophy.
Prof Catherine Barnard - Professor of EU law and Employment Law, senior tutor and fellow of Trinity College -- 2019
Prof Bill Nuttall - Professor of Energy, Cambridge and the Open University -- 2018
Stephen Evans CMG OBE -  Assistant Secretary General for Operations at NATO, Former Ambassador to Afghanistan.
Prof Mark Janse -- Professor of Linguistics at the University of Ghent
Prof Ross Anderson, FRS -- Head of the Cyber-crime Unit at Cambridge University
Mr. Jonathan Faull - Spokesman for the European Commission
Dr Ricardo Borges De Castro -- Adviser on Strategic Foresight to the EPSC
Dr Dirk Frimout - Our First Belgian Astronaut
Prof A. Silberston - London Economics Imperial College
Prof John Kay - Oxford University School of Management Studies
Lord David Williamson - Secretary General of the EU Commission
Sir John Gulden - UK Ambassador to NATO
Dr. Jamie Shea - NATO Spokesman, later Secretary General of NATO
Dr. Julia Campbell - Mistress of Girton
Prof R. Williams - The Vice Chancellor
Dr Sandra Raban - Member of the Governing Council,
Sir John Gray - ex-British Ambassador to Belgium,
David Colvin - British Ambassador to Belgium and
Prof David Yates, the Warden of Robinson College.
Sir Paul Lever - UK Ambassador to Germany
Lord Robin Butler - Secretary to the British Cabinet
Richard Corbett - MEP
Dr Anne Lonsdale - President of New Hall and Pro-Vice Chancellor
Dr Paul Cornish - Cambridge Institute for International Relations
Dr Hans Wim - Director of De Beers and Curator, the Diamond Museum of Antwerp
Sir Nigel Sheinwald - UK Permanent Representative to the EU
Dr Barbara Emerson - St Hildas' Oxford, "History of Afghanistan"
Mr. John Mogg - Director General for the Internal Market, The EU Commission
Prof Godefroid de Calatay - Oriental Institute, the University of Louvain
Sir Bryan Nicholson GBE - Chairman of BUPA
2022 Croquet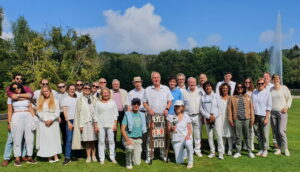 2021 Forest Walk

2017 Summer Cocktail