Links between Cambridge University and Belgium have always been strong -much stronger than is often realised, and this is natural given the geographical proximity, and the historical links in the fields of Law, Medicine, and other academic subjects since the time of Erasmus, and inevitably in commerce, shipping, banking and industry.
The Cambridge Society of Belgium was founded on 28th January 1994. It draws its Membership from amongst the Cambridge alumni who are in Belgium, and relies on knowledge for its existence to be spread. The Society arranges a number of enjoyable, sometimes academic, events throughout the year which enable Members, their families and friends to pursue common interests. Many of these events are arranged in conjunction with the sister Oxford Society, which has a similar relationship with Belgium, and whose numbers and membership are similar in every way, and a few are arranged with other alumni organisations for example Yale, Harvard and Columbia. It offers opportunities for alumni to meet old friends and make new acquaintances. The Society has no political or commercial aims, and does not act as fundraiser for the University.
A number of associated Cambridge Societies exist in the UK, and in many countries across the world.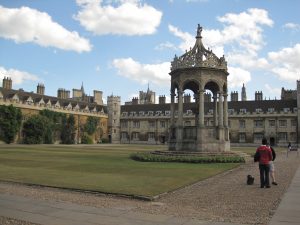 We aim to:
spread information about the University, its activities, achievements and the wide ranging contributions it makes to national and international communities;
offer Cantabrigians a ready circle of like-minded friends;
enable those with half an eye on their careers to be effortlessly well-connected;
provide diverse entertainments, frequently amateur, occasionally of a very high standard, generally to be partaken of with hands in pockets and occasional wry remarks;
lay on opportunities for nostalgia;
tease Oxford (whatever that is);
remind Cantabrigians of what they long suspected.
Membership is open to all those who have studied or taught at Cambridge University in some capacity. Those interested in becoming a Member, please click "membership".