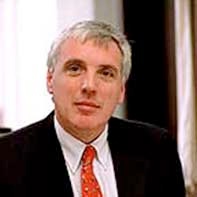 Photo : NATO
Dr Jamie Shea

Tuesday March 8th 2005
The next event to be organised by the Oxford Society will be a speech by Dr Jamie Shea, Deputy Assistant Secretary General for External Relations at NATO, which will take place on Tuesday March 8th. Dr Shea has had an interesting and varied career and has spoken to us before to great acclaim, you can read his biography at http://www.nato.int/cv/is/spokesmn/shea-e.htm .
One of the Oxford Society members, Dr Klaus Famira, has kindly offered to host the talk at his home, Avenue Michelange 80, B-1000 Brussels. The formula will be that which has been used for other speaker meetings, with drinks from 7.00p.m., the talk will start at 7.30 and last about an hour, with 'Q & A' afterwards. This will be followed by dinner at a nearby restaurant, and details of this will follow later. The meeting will be free, but the dinner will cost about €30.
Contact belgium@ousoc.oxon.org

Since this event is being held in a private house numbers will be slightly limited, and the list will be drawn up on a 'first-come, first-served' basis. There may have to be a waiting list if there are too many guests, please can you therefore to be scrupulous about informing Carol de Lusignan if you register and then discover you will in fact be unable to come.