Annual Dinner -- Thursday, 19th May 2022 from 7pm onwards
The President and the Committee would like to request the pleasure of your company at our Annual Dinner 2022.
We are most pleased to announce that this dinner will be held once again at the Cercle Royal Gaulois, Rue de la Loi 5, 1000 Brussels.
Dress is black tie or smart evening dress preferred. Smart lounge suits and smart ladies' business attire is acceptable. We wish that all members and guests feel welcome.
Please confirm your attendance by preferably clicking here before 9am on Friday, 13th May and see below for payment instructions....
See below for pictures of this wonderful evening.
Speaker and Guest of Honour
We are excited to welcome Sam Fleming, Brussels Bureau Chief at the Financial Times.
He has held the post since August 2019, after moving from Washington DC where he was US Economics Editor for the FT for nearly five years, covering the Federal Reserve System, US Treasury, and US economic policy. He became a journalist in 2001 and joined the FT in 2013.
Before that Sam qualified in 1999 as a lawyer at Slaughter and May, a London-based corporate law firm, working in the area of mergers and acquisitions.
His university degree was at Pembroke College, Cambridge, where he studied Modern History and graduated in 1994. He was born in London in 1973.
Registration and Payment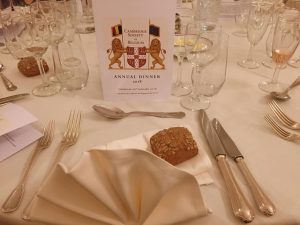 We would like all members and their partners to feel they can attend (guests welcome, if space allows!). The
Cercle Royal Gaulois
, has a limited capacity so we suggest that you register quickly to avoid any disappointment at this special event. The ticket price for
Full Members & their partners is €65 per person.
"Full Members" are Members of the Cambridge Society of Belgium
who have paid their annual subscription
, or "Honorary Members" of the Society, or Cambridge alumni who are full-time students, (see also "under 30's pricing"). For membership information please see
here 
We would like to offer some special concessions:
Firstly, a special price for Members who are 30 years old or younger of €40 per person;
Secondly, the possibility of attendance subsidised by society funds if anyone should be in a position of genuine need (please confidentially contact isabelle@camsoc.be or our Hon. President, Steven);
Thirdly, we invite our reciprocating sister organisations at €76 per person for paid up members (these sister organisations are: the Cambridge Alumni Societies of other countries, Oxford, Harvard and Yale -- other organisations please enquire).
Finally, the price for non-member, non-partner Cantabrigians guests is €85 per person.
Please confirm your attendance by preferably clicking
here
before 9am on Friday, 13th May  (or email isabelle@camsoc.be) and make your payment to the Cambridge Society bank account (BE26 0689 0251 7329 in the name of "Cambridge Society of Belgium")  mentioning "Annual Dinner 2022", your name (if it is not
crystal clea
r from your bank account title), and how many persons at which pricing. Your participation is confirmed once your payment has been received and accepted. Please note, that no refunds for cancellations can be made after 13th May EOB.
Pictures of this wonderful evening