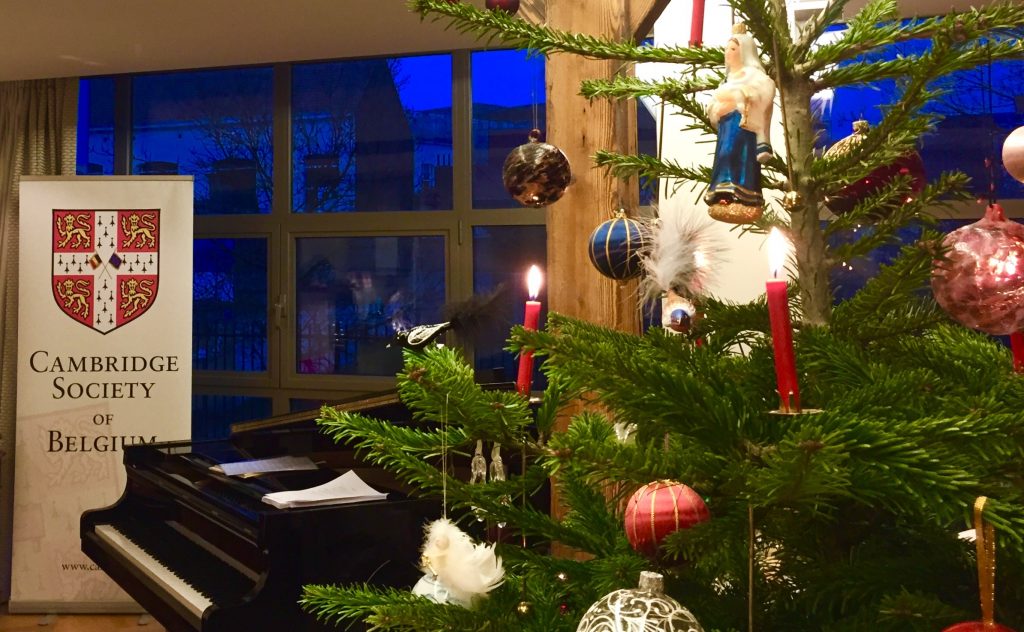 Cambridge Christmas Party 2019, Sunday 15th December, 5:00pm onwards
Logistics
When
Sunday, 15th December 2019,
From 5pm onwards
Where
1000 Brussels
exact address when you signup
(Guy & Katharina's place)
Signup before 11th Dec
Click here
Price
FREE for members (and their families)
€ 5/family for non-members
More info
Zena Prodromou,
socsec@camsoc.be
Details
The Cambridge Society has the pleasure to invite you to a Christmas Party for a festive celebration with mince pies and mulled wine, on the 75th anniversary of the "Battle of the Bulge" -- looking for other events to celebrate!
Guy Knapton (Pembroke, 1960) and Katharina Knapton-Vierlich (Jesus, 1988) have kindly offered to welcome us in their home for this festive gathering. From 5 pm onwards the candles will be lit. Musical entertainment in preparation.
Mince pies will be  sourced from the UK – therefore, if you are attending please do let us know by emailing us as below so that we can sufficiently plan the catering.
The event is free to paid-up members and current Cambridge students (ie Student Members). Non paid-up members will be able to attend with a contribution to the Society of 5€/family.
To sign up please send use this link before 11th December or send an email to secretary@camsoc.be  (places are limited)
We look forward to welcoming you to share a Christmas  moment with us on the 15th December.
NB Please note that parking is difficult nearby and you should allow enough to time to find a space or park at a nearby public car park. The apartment block will have multiple internal signposts so keep your eyes open to go to the 1st floor and find the correct flat. Otherwise sniff for mulled wine and mince pies!