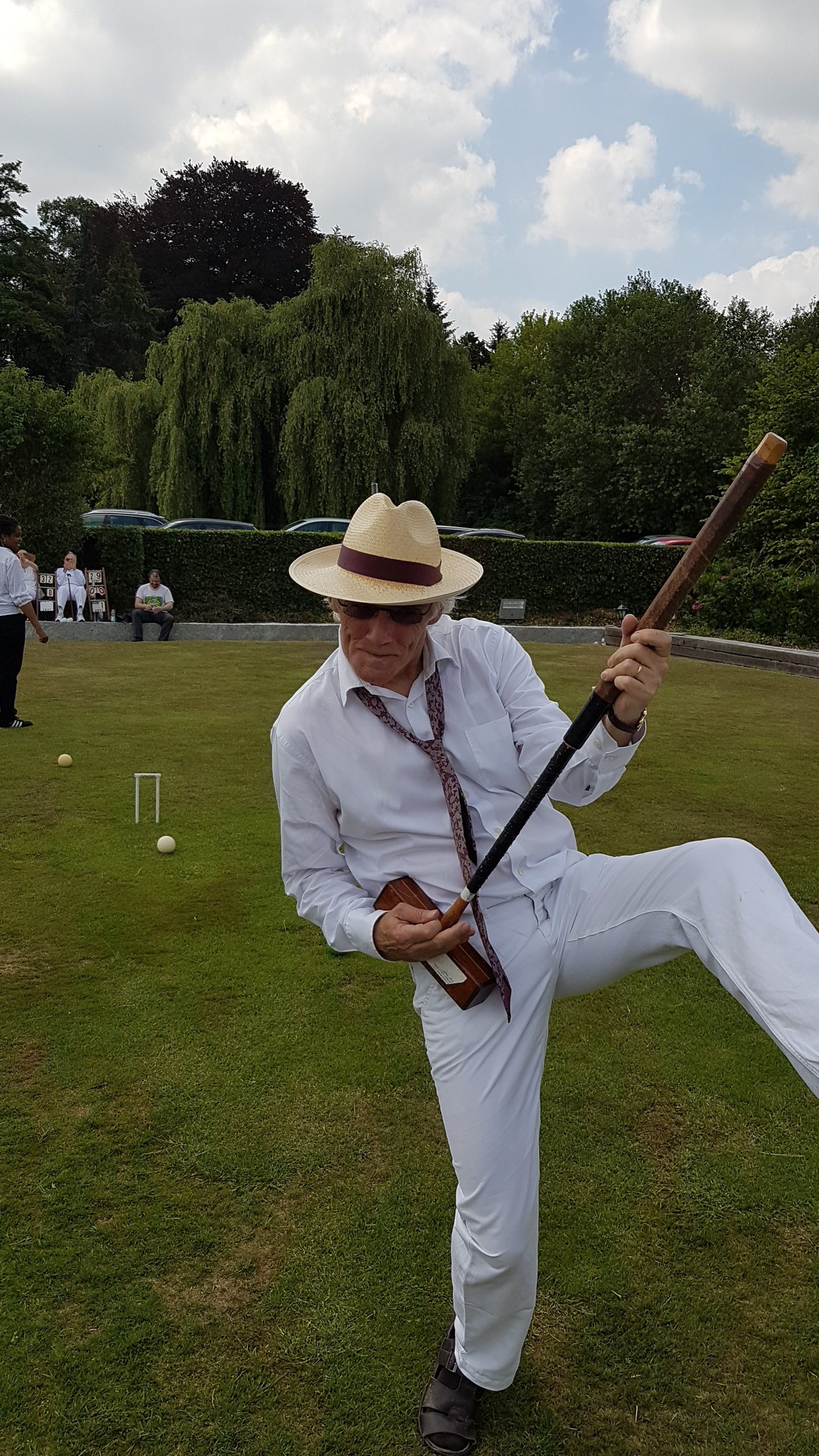 By Our Intrepid Reporter: Alistair Paice
It was a glorious day on the field of Genval with the sun shining on the white clothed participants next to the lake. It was due to be an epic contest with two teams faced off in a field in Belgium with a decisive battle, a showdown between two teams of the same age, formidable strategists and dreams of victory. It was the 18th  June, the anniversary of the other famous battle at close by Waterloo, and the outcome hung in the balance. Would the victory decide the fate of Europe ?
Before the start Cambridge were a couple of strategic players short due to injuries and had been held up in traffic on the way to Quatre-Bras. But Cambridge decided not to worry about the recent years and had a tight-knit team and with the opportunity to win armed each with a glass of university wine from the President.
Oxford agreed to second a couple of Oxbridge candidates to take the field with us. Cambridge won the toss and had an amazing start immediately into the lead through skillful and audacious manoeuvring. At each point won the air was filled with a cry of "Cambridge" to be marked up on the scoreboard. Some team members even leaping into the air with delight to be scoring against "the Other Place".
At half time with a clear lead for Cambridge the Oxford team strategically switched their seconded Oxbridge pair playing for Cambridge.  Cambridge re-positioned their forces to maintain their better lines of communication. With little real preparation prior to the day little serious attention had been given to such a possibility of a Cambridge victory.
This was a gruelling, relentless battle with Oxford's extraordinary resilience in a dogged pursuit of the leaders. In contentious situations they were even starting to  strictly apply the rules !. Going into the last match at 26 for Cambridge leading Oxford with 21 and the deadline of one o'clock fast approaching the tension started to build up and all the players gathered around the for the final closing shots. The decisive hour of the battle had arrived !
A lucky long ball, from an Oxford team member, who had actually started the day playing for Cambridge !, suddenly turned the tables resulting in a narrow victory.  Good as we had been, we were literally pipped at the final post having come perilously close to winning during a fast and furiously contended match ! Kenneth, Master of the Cambridge Mallet then had the dubious task of "returning" the cup to the Oxford Captain.
Becoming again friends and allies, putting behind us the fate of history at the  picnic and drinks, we eagerly await the re-match next year in this traditional Varsity fixture.
The original invite: Click here.